Image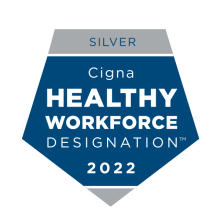 Cigna has selected nonprofit research institute RTI International, parent company of RTI Health Solutions, as a recipient of their silver level Healthy Workforce Designation for demonstrating a strong commitment to improving the health and well-being of its employees through a workplace wellness program. This marks the fourth year RTI has been recognized by Cigna.
A Holistic Approach
RTI takes a holistic approach to staff wellbeing with benefits focused on the whole self, including physical, emotional, mental, social and financial dimensions. The program helps set a standard of excellence for whole-organization health. 
"We are honored to be recognized by Cigna again this year," said RTI senior benefits director Chris Conway. "RTI's wellness program supports staff in leading healthy, energized and purposeful lives. We are committed to fostering a healthy workplace and helping each individual maximize their well-being journey."
Benefits of a Healthy Workforce
Research shows that investing in an effective workplace well-being program drives value for employers. Senior executives surveyed as part of an Economist Impact study commissioned by Cigna reported greater productivity, stronger staff morale and motivation, and greater retention and loyalty as the most significant business outcomes of a healthy workforce.
The Cigna Healthy Workforce Designation, formerly known as the Cigna Well-Being Award, evaluates organizations based on the core components of their well-being program, including leadership and culture, program foundations, program execution and whole person health.