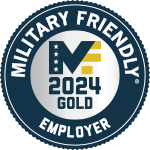 RTI has received the 2024 Military Friendly® Employer gold designation. Military Friendly® Employers provide organizational programs, policies and opportunities that promote intellectual, cultural, and occupational diversity for military talent, and help veterans and other members of the military community make the transition to employment in the civilian world.

"We are honored to be recognized again as a Military Friendly® Employer, validating our ongoing efforts to create a supportive and inclusive environment for our military-affiliated colleagues at RTI," said Bucky Fairfax, executive vice president, chief human resources officer. "Our veterans and military community members bring unique perspectives, skills and experience to our organization, work and the communities we serve. We are committed to providing our military-affiliated colleagues with meaningful, fulfilling career opportunities and employee experience."

Methodology, criteria, and weightings were determined by VIQTORY with input from the Military Friendly® Advisory Council of independent leaders in the military recruitment community. To determine the gold designation, Military Friendly® rated RTI's work in the following six areas deemed critical to helping veterans thrive:
Career opportunity and advancement
Culture and commitment
Hiring and onboarding
Military employee policies and compliance
Military employee support and retention
Recruiting and sourcing
"Organizations earning the Military Friendly® Employers designation have wholeheartedly invested in comprehensive and impactful initiatives that bring about positive, life-changing results for our valued service members, dedicated military spouses and esteemed veterans within their ranks," said Kayla Lopez, senior director of military partnerships at Military Friendly®. "We salute these exemplary employers who raise the bar and understand that hiring military personnel is not merely an act of goodwill but a testament to a standard that truly embodies sound business wisdom. Their steadfast commitment to integrating military personnel into their workforce not only reflects their compassion but also underscores their business acumen." 
RTI is one of 14 nonprofits to receive the gold designation and will be showcased in the winter issue of G.I. Jobs® magazine and on MilitaryFriendly.com. This is the sixth time RTI has been honored with this award.
About Military Friendly ® Employers:  
Military Friendly® is the standard that measures an organization's commitment, effort, and success in creating sustainable and meaningful benefits for the military community. Over 2,100 organizations compete for Military Friendly® designation annually. Military Friendly® ratings are owned by Viqtory, Inc., a service-disabled, veteran-owned small business. Viqtory is not affiliated with or endorsed by the U.S. Department of Defense or the federal government. Results are produced via a rules-based algorithm. The data-driven Military Friendly® lists and methodology can be found at https://www.militaryfriendly.com/mfcguide/  
About VIQTORY:  
Founded in 2001, VIQTORY is a service disabled, veteran owned small business (SDVOSB) that connects the military community to civilian employment, educational and entrepreneurial opportunities through its owned assets such as Military Spouse Magazine®, Vetrepreneur®, G.I. Jobs ® and Military Friendly® brands. VIQTORY and its brands are not a part of or endorsed by the U.S. Dept of Defense or any federal government entity. Learn more about VIQTORY at www.Viqtory.com