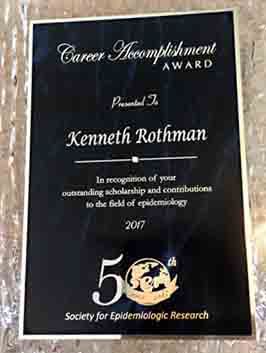 RTI Health Solutions is pleased to announce that Ken Rothman, DrPH, Distinguished Fellow and Vice President for Epidemiology Research, has been awarded the Career Accomplishment Award by the Society for Epidemiologic Research (SER). Rothman received a plaque to commemorate the award on June 22nd during SER's 50th annual meeting in Seattle. 
SER's website states, "The Career Accomplishment Award is given to honor an outstanding scholar with extraordinary contributions to the field of epidemiology or an individual whose work has had a profound impact on epidemiology and shifted the way we practice epidemiology.   Career accomplishment and leadership impact on the field are core criteria that are used for selection of the annual awardee."
Rothman's career in epidemiology spans multiple therapeutic areas. He has published prolifically in the area of epidemiologic research, regularly teaches courses, is a professor of epidemiology and medicine at Boston University, has served on several journal editorial boards, and is a fellow of several epidemiological societies. 
Congratulations Ken! Well deserved. 
Read more about Dr. Rothman here.